Innovation and Aesthetics in Contemporary Australian Poetry and Poetics
14-16 April 2016
Active Aesthetics was a conference and festival of contemporary Australian poetry that took place over four days in April 2016 at the University of California, Berkeley and the San Francisco Center for New Music.
The conference was initiated by Professor Lyn Hejinian (Department of English, U.C. Berkeley) and was convened by Professor Hejinian together with Dr Kate Fagan (Writing and Society Research Centre, School of Humanities and Communication Arts, WSU), Dr Ann Vickery (School of Communications and Creative Arts, Deakin University) and Associate Professor Eric Falci (Department of English, U.C. Berkeley) with the assistance of Daniel Benjamin, Serena Le and Claire Marie Stancek, and with the kind support of our respective institutions. The event combined critical panels with a series of poetry readings, performances and live collaborations.
Active Aesthetics enabled a transcultural exchange between innovative and activist poets of Australia and the San Francisco Bay Area. Together participants began a series of ongoing conversations about issues in poetry research and practice that are of mutual urgency to our writing communities, regardless of different local expressions. Themes addressed at Active Aesthetics included ecological crises, worlds of species presence, persistent colonialism, race and sovereignty, the surveilled life, Asia-Pacific regions and networks, transnational and transcultural thinking, aesthetic work under late capitalism, the apocalyptic lyric and small press poetry publishing.
To coincide with the conference, an anthology of poetry by participating Australian poets was published jointly by Tuumba Press and Giramondo Publishing. Cordite Poetry Review also published a companion feature of work by U.S. poets of the San Francisco Bay Area, curated by Lyn Hejinian and Sofie Ramos.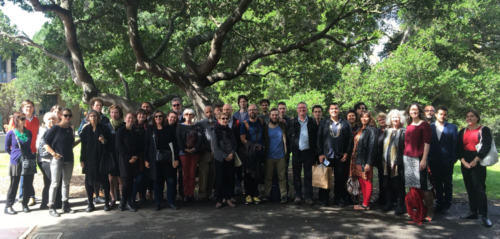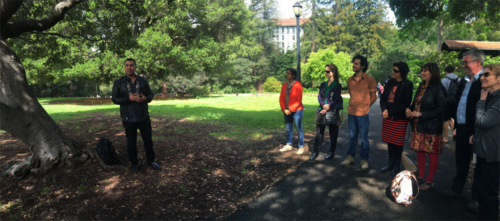 15 APRIL 2016
Panel 1: Australian Genealogies of Active Aesthetics
Philip Mead: The Territory of Activism: John Kinsella's Upending of Dante in Western Australia
Ann Vickery: Luxurise This!: Contemporary Poetic Practice and The Communal Imaginary
Peter Minter: Opposing Natures: Extraction and Proliferation in Twenty-first Century Australian Poetry
Panel 2: Keynote Panel – Contemporary Aboriginal Poetics
Ali Cobby Eckermann: Give Me Back My Mother's Heart
Natalie Harkin: Archival-Poetics
Stuart Cooke: Australian Bricolage: Decolonisation, Compost, Country
Panel 3: Politics, Activism, Innovation
Sam Langer: 'After the bombs we invent the future': A Poetics of Threat
Astrid Lorange: Poetry After the Future: Conspiracy, Ecstasy and Hopelessness in Contemporary Australian Writing around Art
Marty Hiatt: 'How long have we been doing this': Reduction and Bearing in Some Poems by Tim Wright
16 APRIL 2016
Panel 4: Pan-Tropic Poetics
Toby Fitch: Inversion: A Down Under Conceit
Michael Farrell: Break or Connection? Species Catalogues and the Conceptual Episteme in Australian Poetry
Corey Wakeling: The Comic Scenario Towards the Commons: 'No colony can con'
Panel 5: Poetics of Decolonization
Matthew Hall: The Origins of Black Aesthetics, Radicalism, and Linguistic Innovation in Lionel Fogarty's Poetic
Bonny Cassidy: unbidden |ʌnˌbɪd(ə)n|
R D Wood: The Politics of Poetic Repatriation: Western Pilbara Song Poetry in the Digital Humanities Era
Panel 6: Feminist Countercultures, Queer Affiliations, Alternative Histories
Pam Brown: F A R O U T  A M N E S I A C: Collaborating with Susan M. Schultz and Maged Zaher
Kate Lilley: Voices Off: Tilting at Australian Obliquity
Kate Fagan: Archives of the Present: Temporal Shift, Maternal Legacy and Ontological Repair in the Poetry of Ali Cobby Eckermann and Natalie Harkin
Panel 7: Experiments in Scale and Subject
A.J. Carruthers: Experiments in Expansion: Contemporary Australian Innovative Long Poems (on Ania Walwicz, Jessica Wilkinson, Astrid Lorange)
Jessica Wilkinson:  Contemporary Australian Long Poems and Biographical Experiments
Fiona Hile: 'Woman Exists': The Logic of the Archive in Ann Vickery's Devious Intimacy and Common Sexual Fantasies, Ruined by Rachel Briggs
Related Posts